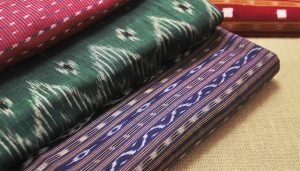 SHOPPING
IKATS. KALAMKARI. KHADI.; Matkatus, an online store for ethnic handcrafted products based in Chennai says it works with artisans across different regions of India to promote 'heritage  weaves'.  It is exhibiting its products at a sale  at C. P. Art Centre, Alwarpet. The show will include  Ajrak, Ikats, Kalamkari,  Block Prints, Khadi and other handwoven yardages, blouse fabrics, sarees, dupattas and stoles.  On till July 29 through the day.
ALWARPET BOUTIQUE'S SHOW: Merasal, the Alwarpet boutique for women ( Indo-western clothing ) is hosting a House Pop-Up show on July 28 as its first exhibition of clothing – showcasing brands sourced from across the city. Also jewelry, furnishing and accessories. MAlso on sale –  baked goodies like cakes, cupcakes and pastries from Edible Sins. Guests can also enjoy complimentary makeovers and gel polish from Aarti Gutta Spa & Salon. At APN Centre, 18/24, TTK Road 1st Cross St., Alwarpet. Call 9176760441.
TALKS. DEBATE. LITERARY.
TAMIL FILM REVIEW: Imsai Arasan 23-aam Pulikesi – the Thamizh film will be the topic for discussion at the weekly meet that 'Vasagasalai' organises at the state public library on Bharathidasan Road, off TTK Rd. Film director Simbudevan is on the panel that will discuss and review the film. On Sunday, July 28, 5 pm. Contact: 9842863355
WARANGAL TEMPLE RENOVATION; Interested in temple architecture? Check out this talk on 'Kalyana Mantapam of 1000 pillars of temple built by the Kakatiya dynasty in Warangal'. Prof. Panduranga Rao, who retired from NIIT-Warangal is the speaker and he details the exhaustive restoration of this heritage structure. At Arkay Centre, R. H. Road, Luz. Aug.1, 6.15 pm. Hosted by Madhuradhwani. Open to all.
WRITER-CRITIC INDRAN: Writers, artists, critics and well-wishers of the multi-faceted Indran, writer and art critic have got up an event called 'Indran-70' on July 29, Sunday at Russian Cultural Centre, Alwarpet. 5 p.m. onwards. Prominent writers and artists will take part a discussion of Indran's works. A documentary on him will be screened. Indran has published over 25 books in both Tamil and English, which include eight collections of poetry, nine books of translations and nine books of art criticism.
DRAMA. MUSIC
SABHA'S FEST OF 6 PLAYS: The 16th drama festival hosted by Mylapore Fine Arts Club will be inaugurated on July 28. The title of 'Nataka Kala Nipuna' will be conferred on actress T. S. Anandhi. The festival is on till Aug 2 and will include six plays by various troupes.
CONCERT THEME: ALLIED RAGAS: A music festival, based on allied ragas and organised by Saraswathi Vaggeyakara Trust, is on at Narada Gana Sabha, Alwarpet, till July 29. On July 28, vocalist V. Shankaranarayanan will present the Sahana and Nattakurinji ragas. He will be accompanied by M. A. Sundareswaran, Neyveli Skanda Subramanian and Tiruchi K. Murali. On July 29, K. Bharat Sundar will present Mukhari and Bhairavi ragas. He will be accompanied by Vittal Rangan, Praveen Kumar and Krishna Sriram.
ENTERTAINMENT
STAND-UP COMEDY: Four stand-up comedians promise an evening of laughter for guests at the 'Chennai Comedy' show that English Tea Room on Kasturi Ranga Road, Alwarpet is hosting on July 28. And as you have fun, you can order for snacks across the table. 7.30 pm onwards. Entry – Rs.300. Call 9884572957.