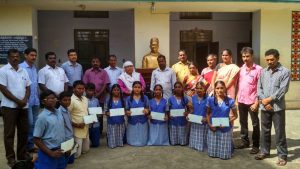 On July 23, the alumni of the 1993 (class X) batch of Kesari Higher Secondary School, Mylapore met at the school campus to finish off something that had been brewing for a while now – disbursement of scholarships to the needy.
The idea first cropped up when the group met during the last week of January for their silver jubilee meet. Their memories of school days prompted them to talk about how to give back to the school. A scholarship seemed like the best thing to do.
A. Ganesh Kumar, a student of the batch, took up the responsibility of organising the scholarships. Soon the D-day arrived. The students met again, ten deserving students received scholarships of Rs. 5000 each.
Later, they dispersed, with a smile on their faces and a promise to continue this every year. Old students can contact Ganesh at 9962714636 or Selva at 9841313122.