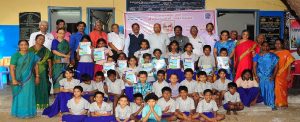 On July 16, a special event was held at Sree Karpagavalli Vidyalaya, Mylapore to celebrate the birthday of former chief minister K. Kamaraj.
S. Jagadeesan, former judge, Madras High Court, conferred the Kalvi Chemmal awards on several awardees. He also talked about some of the schemes initiated by Kamaraj during his tenure as chief minister.
The celebrations were organised by Chandra Ammal Charitable Educational Foundation, Mylapore in association with Lions Club of Teynampet.