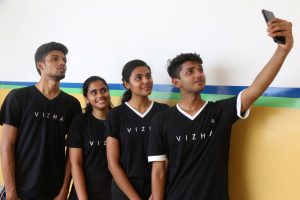 Chettinad Hari Shree Vidyalayam hosted its fifth cultural extravaganza – Vizha on July 19 at the school campus. Students from 23 schools took part in events like futsal, basketball, footloose, bandwars, stand-up comedy and more. A new event, IPL auction, was also added this year to enthuse young cricket players.
The inauguration ceremony was abuzz with dance and music by the students. Judges from various portfolios and backgrounds were specially called to add a professional touch this year.
The event was completely organized, planned and executed by the students who also helped get sponsorship for the event. Various food stalls were also put up to spice up the event. The overall winners were PSBB KK nagar, they won the event last year too. Trophies, certificates and gift vouchers were awarded to all the winners.
-Reported by Rithvik Senthil, student of Chettinad Hari Shree Vidyalayam