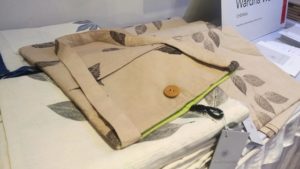 SHOPPING
CHILDREN'S WEAR : Baalika presents clothes for little girls between 6 months to 14 years of age.
Includes paavadai sets, skirts, salwar kameez, anarkali kurtas along with salwar kameez materials and sarees for women. On from Aug 29. At C. P. Art Centre, Alwarpet, 10 a.m. onwards.
Ph: 94498 12995 / 98451 29095.
FOOD. CRAFT. CLOTHES: By Hand From The Heart, a curated sale featuring new and established designers, makers, artisanal and homegrown labels in the category of art & craft, lifestyle, fashion and food.
Participants are from Ahmedabad, Bangalore, Bhubaneswar, Chennai, Coimbatore, Delhi, Jaipur, Kolkota, Kumaon, Mumbai, Nagpur, Noida, Puducherry and Pune. 
On till Aug 25, 10 a.m to 8 a.m. At Crowne Plaza hotel, TTK Rd., Alwarpet. Photo is of clothes on sale at this show.
ART 
CONTEMPORARY ART : Progressive Painters' Association have organised an exhibition of paintings and sculptures on 'Contemporary art in Madras over the years' as a part of Madras Week celebrations. At C. P. Art Centre campus.
On Saturday 6 p.m., there is a talk by art critic Ashrafi Bhagat.
On display are also rare art works by D. P. Roy Choudhary from the private collection of C.P. Ramaswami Aiyar. The show is on till Sept.4, 10 am to 6 pm –  on Eldams Road, Alwarpet.
SPIRITUAL THEMES: Artist Shreyas Shankar's works titled 'The Spiritual Spiral – An exploration into the language of the soul' will be on display. On Aug 26. At C.P. Art Gallery, Eldams Road, Alwarpet.
EATING OUT
MADRAS DAY SPECIAL: Soul Garden Bistro has curated a limited period special fusion menu marking Madras Day celebrations. The menu will feature Madras specials with a western twist.
On from August 18. At 14, Ananda Rd, Alwarpet. Ph: 45145433.
ONAM SADHYA: Thaligai Restaurant will host 'Dine for a cause' on the occasion of Onam. 25% of the proceeds go to Kerala Chief Minister's Distress Relief Fund. The restaurant specialises in no-garlic, no-onion traditional vegetarian recipes and will serve Onam Sadhya special lunch menu consisting of 30 varieties. Rs 450 per head plus taxes. From Aug 25 to 27. At 60, Luz Church Road, Mylapore. Call 9791272888 to book.
GOURMET BAR: Novotel Chennai's Gourmet Bar has introduced a special, healthy menu. Includes salads, smoothies and shakes along with a do-it-yourself meal option. On till Aug 31.  At 11, Chamiers Road. Ph: 24302333.
MISCELLANEOUS
THAMIZH PLAY: Brahma Gana Sabha and Sri Parthasarathy Swamy Sabha jointly present 'Manasaatchii', a Tamizh stage play written and directed by K.S.N.Sundar. Featuring S. Shivaprasadh and S. Sruuthi in prominent roles On Aug 26, at 6.45 p.m. At Mylapore Fine Arts Club, Mylapore. Open to all.
POTTERY WORKSHOP: Wandering Artist presents the 5th edition of Hands on Wheels workshop. Learn the basics of ceramics and clay under Thyagarajan. On Aug 25, 4.00 p.m. At 5, 6th Main Road, R. A. Puram. Paid event. Ph: 9500042435.
MANDALA ART : Workshop for children and adults on 'Mandala Art on Glass' by The Art Room. On Aug 25 and 26. At C.I.T. Colony, Mylapore, 10 a.m. Fees Rs. 1600 – inclusive of materials. Ph: 7550071255.
FOR SENIOR CITIZENS: Dignity Foundations' Tehneer Arangam offers for senior citizens these events : Talk on 'Active Aging'. On Aug 30, 11 a.m. At Srinivasa Gandhi Nilayam, 332, Ambujammal Street, T. T. K. Road, Alwarpet. Talk on 'Fitness for Senior Citizens'. On Aug 31, 4 p.m. At Oppilal Music School, 54, 3rd Street, Abhiramapuram.
CONCERT FOR CHARITY: Freedom from Cancer Relief and Research Foundation presents 'Conquer '18' – a live orchestra music and dance to honour and celebrate the spirit of cancer survivors. Proceeds will be utilized to spread the awareness of early detection of cancer and to aid treatment of cancer for the under privileged. On Aug 26, 4.30 p.m. At The Music Academy, Alwarpet. Ph: 9840758567.