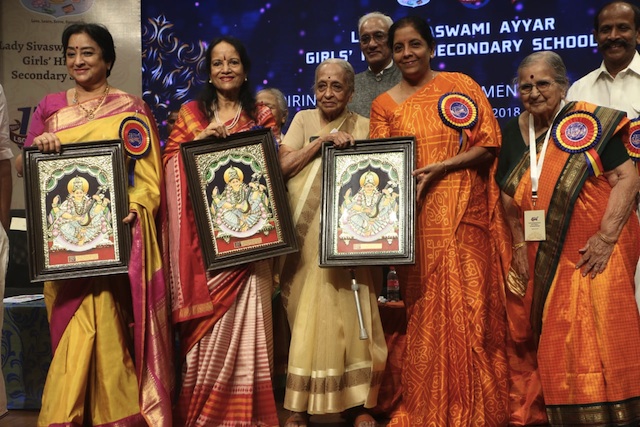 Union minister for defence Nirmala Sitharaman wants to see students from Lady Sivaswami Ayyar Girls School in Mylapore to enter the Indian armed forces. She said this while speaking at the 150th year celebrations of this Mylapore school at an event hosted at R R Sabha on Friday evening, August 24.
While acknowledging the all round education that Lady Sivaswami Ayyar Girls School provided to girls from primarily economically weak sections of society, educating them in academics and extra-curricular activities, the minister said that India was opening up avenues in places like the armed forces for women and that the school must prepare students to get into the forces.
Besides the union minister, the state ministers for education and for industries were present at this event got up to celebrate this milestone in the school's history.
On arrival, Nirmala Sitharaman and the TN ministers inspected a guard of honour in the school campus and recognised students who had excelled in academics and sport.
At the formal event at R R Sabha, three well-known alumnae were recognised – Dr V. Shanta, known the world over for cancer medicare at the Cancer Institute, actor Lakshmi and singer Vani Jayaram.
Opening the event, the school girls sang songs and then presented a short version of 'Valli Thirumanam' in dance-music-narrative.