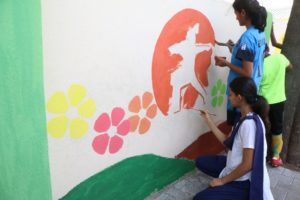 On July 28, it was the turn of the students and teachers of P. S. Senior Secondary School, Mylapore to join hands with SAPS (Stop Abusing Public Spaces) and paint the walls of their school.
About 40 students took part in this project. The walls had colourful messages on the need to recycle and avoid plastics.
SAPS is an initiative to beautify city walls in association with schools and resident associations. Call 09884032182 for details.