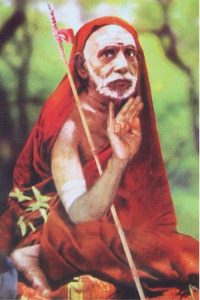 Shivanugraha Trust, Sivan Fine Arts and Narada Gana Sabha will be conducting a series of events on Aug 5 dedicated to the Kanchi Mutt guru, Sri Chandrashekarendra Saraswathi Swamigal. Rukmini Ramani will lead the rendition of Jyothirlinga kritis by the students of the Shivanugraha group.
A dance recital, Natya Samarpanam, based on Mahaperiyava's Pancharathnam 'Prathyaksha Deivame' and composed by Rukmini Ramani, will follow with performances by Deepa Ganesh, Binesh Mahadevan, Srekala Bharat and several others.
An audio CD 'Anandam' (Margam 3) composed by Rukmini Ramani will be released by noted dancer-guru Dr. Padma Subrahmanyam. K. Harishankar will receive the first copy. At T. T. K. Road, Alwarpet, 4.25 p.m.