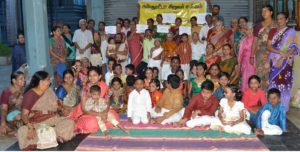 The Kasthuriba Club, Mylapore, an organisation which made its humble beginnings more than six decades ago, had a grand celebration to honour Mahatma Gandhi on Oct 2.
The event was inaugurated by a nonagenarian V. K. Subramaniam. He talked about the freedom struggle and narrated several incidents on how the weapons of ahimsa and sathyagraha were used then.
Later the children of the club sang bhajans. Parents then took a pledge to avoid plastics. The club is located at Nattu Subbarayan Street, Mylapore. Ph: 9444868070.