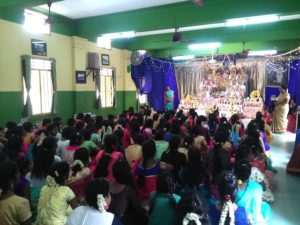 The Children's  Garden School, Mylapore has this long tradition of celebrating Navarathri with a kolu – the school says this has been done  for the past 81 years in a grand manner.
The school says that besides setting up the traditional kolu, the kolu also has a secular  touch to it – representing Islam, Christianity, Jainism and Buddhism.
This year, this kolu has incorporated  'Essence of water' as a major concept and the school says that to represent this, various group projects have been prepared by students .
The students displayed the origin of water from mountains, rain water harvesting and recycling water.
The kolu was inaugurated by school correspondent  Shakunthala Sharma.
Students assemble at the kolu hall classwise on each day; they are allowed to be traditional clothes and they recite slokas  and sing bhajans. They also contribute flowers and fruits to the pooja.