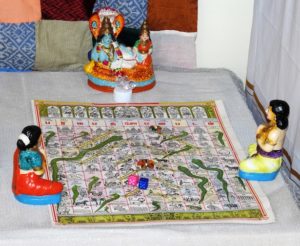 Balasankari Sivakumar and her family in Mandaveli have highlighted traditional games and shared the message of eco-friendly practices.
She says one part of the kolu displays 'paarampariya vilayaattugal' like pallanguzhi, dhayam, Paramapadam, ammaanai, pamparam, gilli, goli, paandi, aadupuli aattam, chozhi uruttudhal, puliyankottai and so on.
The kolu also includes the demonstration of handworks of the family members and the design of the traditional maakkolam.
She said the family avoided the purchase and use of plastics for sundal packing,  return gifts, kumkumam-manjal boxes, thamboolam package and are reusing the covers and bags already available.  
Balasankari Sivakumar is at 19/9, Trust Pakkam South Street, Off Devanathan Street, Mandaveli. Phone: 9281333423