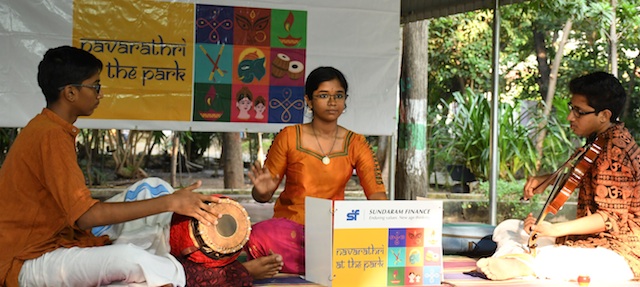 The third and final concert of the Navaratri series held at Nageswara Rao Park was held this morning.
14 year old Shriya Vishnuram, a student of PSBB Nungambakkam presented a one hour 'mikeless kutcheri' at the park. Mikes and speakers are not used at this kutcheri – the series is hosted by Sundaram Finance.
Shriya, who is learning music from guru T.R. Vasudevan was accompanied on the violin by T Kishore,
(guru – G. Sureshkumar) and on the mridangam by G. N. Bhuvanasundaran, disciple of S. J. Arjun
Ganesh.
Sundaram Finance has also been organising monthly 'Kutcheri in the Park' on the first Sunday of every month since February 2007.
Sundaram Finance conducts audition to select the artistes aged below 15 years for the monthly Kutcheri in the Park. To apply, email: sundaykutcheri@sundaramfinance.in
or call the PR consultant, S. Prabhu @ 94440 40748