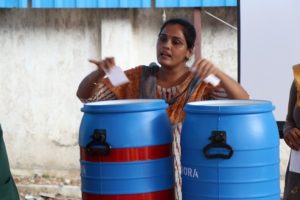 The Civic Exnora unit in Archbishop Mathias Avenue in the Boat Club Road area hosted a community meet on waste segregation on Saturday, Oct.13.
The event was organised to further small waste segregation efforts in this R A Puram area.
The hosts say that till now, several attempts have been made by resident yolunteers of the area ( ABM Avenue and Crescent Street) by way of door to door campaigns and circulation of flyers to disseminate information on the why and how to segregate waste.
But there has been limited success.
Last weekend, the group collaborated with Namma Ooru Foundation to host simultaneous information-sharing sessions in Thamizh and in English to address both staff and residents in the area.
Children were also included in this event by getting them into fun, art and craft activity using waste materials alone.
While the community pushes for source segregation, the waste disposal cycle has to be made complete – Ramky workers have to collect and keep the segregated waste and find ways in which dry waste like paper and plastic can be collected and sold while wet waste is recycled.
Activists here say they will work with Chennai Corporation and Ramky to create compost from wet waste in the local yard where pits were made some months ago with donations from the local community.
Residents say the civic reps have been receptive to their ideas but the loop will have to be completed to make this action a success.
The contacts of this community – Bhamini – 9282104699 and Ragini – 9677096239..