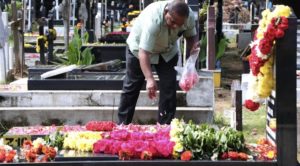 November 2 is observed as All Souls Day by Christians all over the world. A day when people remember those who have passed away and pray for them.
Holy Masses were offered at churches in the Mylapore neighbourhood in the morning of November 2 ( Friday) to pray for those who have died.
Later, the graves at cemeteries – Quibble Island in MRC Nagar area and Chennai Corporation graveyard on St Mary's Road – were blessed by priests of local churches.
Throughout the day, people visited the graves of their dear ones, placed flowers and burnt candles and prayed at the graves.
This photo was shot at the Quibble Island cemetery