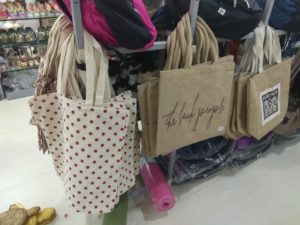 With the ban on 'bad' plastics close at hand, there are some developments at local stores.
Giri Trading at North Mada Street is planning to put up a special stand with different varieties of jute and cloth bags near the cash counter.
"People who want to buy the bag can use the same for carrying the items purchased. We are not giving bags with our branding. Sometimes when they purchase in bulk they can take the bag for free." says T S Srinivasan, director of Giri.
Elsewhere, All India Handloom and Handicrafts and Preethi Handicrafts stores at North Mada Street have introduced cloth bags instead of plastic bags one week ago. They also offer big shoppers' bags made of jute. For packing dolls and handicrafts, they use cardboard boxes.
"We started planning four months ago. We have given them for printing our name. At present we have cloth bags in two sizes at Rs.5 and Rs.10. We will include more sizes in future.", says S. Bhasumoni, owner of the shop.