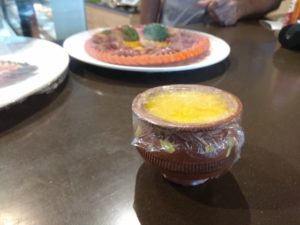 Vasantha Bhavan Sweets and Snacks that recently started at South Mada Street, Mylapore have come up with earthen pots (man-panai) in the place of plastic cups to serve some sweets with to its customers. Since the past week, Badam Halwa is served in them.
"We are planning to replace other things also before the plastic ban. As of now, we are not charging for the pots. Recently some children liked them so much and wanted to take them home. We allowed on seeing their excitement.", says the branch manager.
Now the Christmas and New Year special offers are on. On buying 1 kg sweets, 1/2 kg snacks will be free and for 1/2 kg sweets,1/4 kg snacks will be free. This offer will be valid from up to 5.01.2019.
Mob: 7299907048, Ph:044 24936666/24957666.
Report and photo by J. Dheepti, trainee reporter