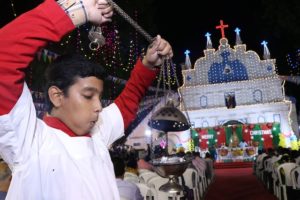 Areas of San Thome, Luz and Mylapore and Mandaveli where churches are located came alive early before midght as people mad etheir way to attend Mass and religious services for Christmas.
San Thome High Road saw traffic jams as people crowded around churches for service.
The English Mass at St. Bede's auditorium began with carols while the Thamizh Mass in the Cathedral campus was said by archbishop Rev George Antonysamy; he later cut a cake to be shared by the huge congregation.
Down the same road, the CSI St Thomas English Church and CSI St Thomas Tamil Church were packed with people for midnight Christmas service.
Mass at Our Lady of Guidance Church on Lazarus Church Road was held in the open air as was the case at Our Lady of Light Church, its 16th century facade lit up and a lovely backdrop for the service here.