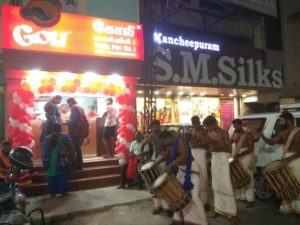 Goli, a pan -India food chain, known for serving Mumbai's popular vada pavs, opened at North Mada Street (next to SM Silks), Mylapore on Jan. 5 evening. The inauguration was sounded out by a tea of chenda melam artistes who performed at the doorstep.
This joint used to be on East Mada Street.
"One can eat on the go and the prices are also nominal," said a person who was early at the shop to get his favourite pav.
"The classic vada pav is the speciality here. The bonda is prepared with boiled potato and a Mumbai-special masala. Lasun chutney, made of red chilly, garlic, peanut and coconut is applied between the pav. And fried green chilli is used as a dip. Its popularly known as desi (Indian) burger," says B. Yovel, who works at the food joint.
"In other vada pavs, a vegetable cutlet is used. They are flavoured according to the customers' taste," he adds.
The classic vada pav is priced at Rs.28. Other varieties cost in the range of Rs 40 to Rs 100.