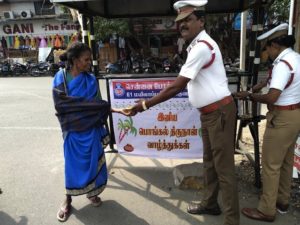 On January 15, the Traffic Police of E1 Mylapore police station celebrated Pongal at Kakkum Karangal,  a home for elders and the abandoned located in San Thome.
The officials decorated the entrance of Kakkum Karangal with sugarcane sticks and created a rangoli.
"Last year, we celebrated pongal at the Luz junction. This year, we had received an order from the Commissioner that all stations have to celebrate Pongal at nearby orphanages. We chose this place," said K.Kumaran, sub-inspector.
So, in addition to distributing sakkarai pongal at Luz junction, the police served sakkarai pongal and tiffin to 35 elderly people at the home.
"A few even cried when we were distributing the food. They were excited to talk with us. We also felt very happy on meeting them,' said P. Francis Merry, sub-inspector.