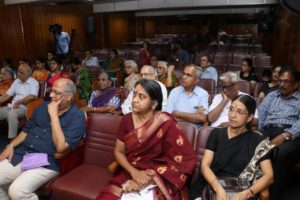 A condolence meeting to remember the passing away of writer-critic Charukesi Vishwanathan was held on the weekend by Natyarangam, the dance promotion wing of Narada Gana Sabha at its mini hall in Alwarpet.
People who knew Charukesi closely spoke on the various facets that he was known for. He was an integral part of Natyarangam and had a warm word for dancers who showed promise and excelled.
This was the second such meet. Earlier, a Thamizh literature readers' group that meets at TAG Centre to review books monthly also marked Charukesi's passing. Charukesi was part of the team which curated the monthly meets.
He lived in Abiramapuram.