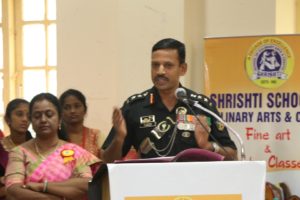 On Jan 17, the students of Shristhi School of Culinary Arts and Crafts gathered at Srinivasa Sastri Hall, Luz for a unique prize distribution ceremony.
Lathamani Rajkumar, the director of the school says, "From January of last year, the children here started making greeting cards wishing the military personnel for Republic and Independence day. We then handed over 880 greeting cards some time in September last year. And soon we received certificates from the armed forces for all the children, more than 250 of them. We organised an event and handed over the certificates to the children, they were elated that they could make a difference".
The chief guest at the event was Colonel J. Anandan, Officers Training Academy, Chennai.
The Pulwama tragedy, she says, has affected us all. "The children have again started making greeting cards to be sent to the personnel affected by this tragedy. We hope to send atleast a thousand cards within a month".