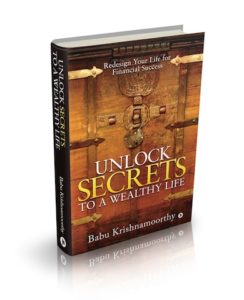 Babu Krishnamoorthy, a chartered accountant and  financial advisor who has his office, Finsherpa Investment Services at Abiramapuram has released a book  titled –
Unlock Secrets to a Wealthy Life.
The book is a guide to novices in money management – on how to start and build a wealth building framework, says M. Tarun of Finsherpa.
The book was launched by Sunil Subramaniam, MD of Sundaram Mutual Fund earlier in January. The book is available on Amazon and Flipkart.