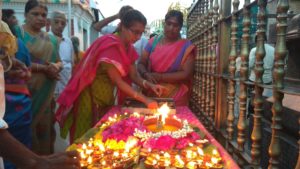 At Sri Kapali Temple, members of Hindu Temple Reclaim Movement lighted a Moksha deepam (a light for the departed souls to attain moksha) as a tribute to the CRPF personnel killed in Pulwama recently.
It took place in front of the kodi maram on Feb. 20 evening.
People assembled and observed two minutes of silence.
The moksha deepam will remain here for 16 more days. People can pour oil for the deepam, said a volunteer.