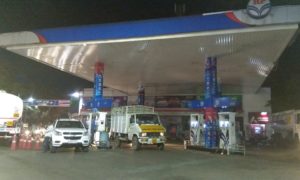 On February 20, the petrol bunks were closed at Greenways Road, R. A. Puram from 7 p.m. to 7.20 p.m. as a mark of showing respect to the 44 CRPF soldiers martyred at Pulwama in Kashmir.
The lights were switched off and the staff maintained silence throughout the 20 minutes.
Motorists at the stations paused before filling up.
All over India, petrol bunks under the Consortium of Indian Petroleum Dealers (CIPD) observed this simultaneously on Feb.20.
The petrol bunks affiliated to Tamilnadu Petroleum Dealers Association also paid tribute on Feb 16 for the same cause.