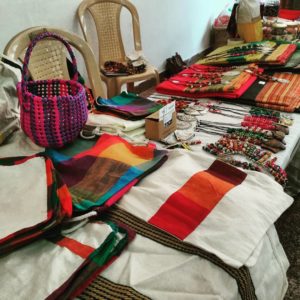 In a quiet corner of Mylapore, two people are silently making a difference in the life of more than 50 lesser privileged humans. Kavithaa and Shiva chose to do more than just live for themselves. Madras4 Enterprises (named after the locality) is a social enterprise that was started to create a marketing platform for products done by people of disadvantaged groups. These two Mylaporeans started this small venture almost a year back from home which has now taken shape as a home store called Ekagrata, in the heart of R.A. Puram.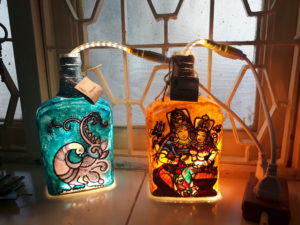 Their idea was to provide employment and sustainable occupational ventures to handicapped, disabled or disadvantaged groups across various villages in Tamil Nadu. They wanted to provide an occupation that would not only engage them but also provide them an income. The enterprise ventured with designing and marketing of cotton bags. Kavithaa, the founder and managing partner, has been associated with Vidya Sagar, and other NGOs. She has used her skills, knowledge and experience to give shape to this project.
Slowly, their product range expanded to include wire baskets, cotton sarees, cotton towels, upcycled and handmade products, accessories, menstrual cloth pads, stationeries and more. And so the duo felt a need for display and sale of all the products made under this brand. Their upcycled jewellery with fabric beads and coconut shells are quite stylish.
A lot is happening at their new outlet set in an old bungalow. All the raw materials are cut and prepared to be sent to the groups who will sew them together. "They don't have much designing skills so we do most of that part here". At times they are called to the centre and trained in new techniques. Also, they are now involving senior citizens for making traditional hair oil, etc.
"The products are done by various people living across rural and semi urban areas", says Kavithaa.
The latest addition is hand blocked printed with vegetable dye sarees, dupattas and stoles. The product range at Ekagrata is quirky and unique and makes great gifting solution especially for weddings and corporates.
"We have made this a zero plastic venture. We also encourage online transfers over cash transactions", she adds. "We have products starting with Rs. 25 till about Rs. 9,500".
The outlet is open from 11 a.m. to 8 p.m. every day except Tuesday and serves hot south Indian filter coffee, tea, green tea and also has some fresh made kitchen products. Their products can be viewed on their social handles:
Facebook – https://www.facebook.com/m4.ekagrata/
Instagram – m4.ekagrata
Address: Ekagrata, 6/14 Anandapuram, 1st Floor, Dr. Ranga Road, Mylapore. Ph: 8825749536 / 8754599082.