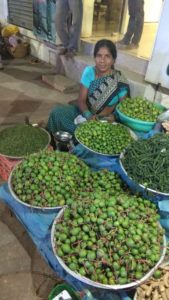 On Feb 22, the shoppers were overwhelmed to see the dark green vadu mangas (baby mangoes) piled up at some pavement shops in South Mada Street. They immediately bought a few kilos and started planning for their pickle making sessions.
S.Kavitha, a street hawker, who is known for bringing all the different vadu manga varieties early to the market says "I have many regular customers. So I make sure to bring them at the earliest."
"Vadu mangas from Madurai, Coimbatore, Tiruchi and Madhavaram have just now arrived," she says.
Chitra Viswanathan from Mylapore who was very keen on buying the vadu mangas with stems says "This one has the best taste than the ones without stems (poruku mangoes), which are collected as they fall off from trees."
"Curd rice becomes extra delicious with vadu manga pickle. Now, I need not feed my kids till this pickle gets over," she adds.
Thanjavur more mollagai and avakai mangoes are also available here.
The vadu manga is priced at Rs.250 per kg. Kavitha's shop is outside the checks and stripes garment outlet at South Mada Street, Mylapore.