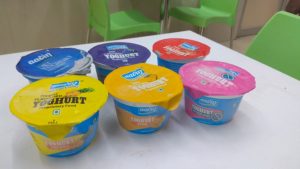 Recently, Aavin has introduced flavoured yoghurt in 100-gram cups. The available flavours are – strawberry, mango, pineapple, orange and grape.
Besides them, plain and sugar-free yoghurts are also available.
"Of these, the strawberry and mango flavoured yoghurt have become increasingly popular among youths," says a staff at the Aavin Junction on C.P. Ramaswamy Road, Alwarpet.
V.N.Vijaya from Alwarpet says "I like the plain one. It is very good and refreshing."
All the flavoured yoghurts are priced at Rs. 20. The plain yoghurt costs Rs.18.