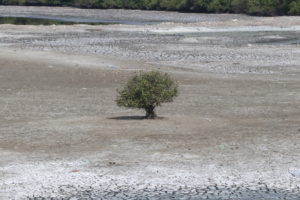 If there is one place where one can witness the slow but definite effect of a torrid summer in a city that is grappling with water availability then it is in the campus of Adyar Poonga, the urban nature reserve developed by Chennai City Rivers Restoration Trust (CCRT).
Stand outside the high walls of the boundary that runs on Dr D G S Dhinakaran Road in R A Puram, near the traffic signals junction of Foreshore Estate and peer at what used to be the estuarine lakes of the Adyar river and you will stare at parched land cracking up slowly.
The water line is hardly noticeable. It lies as a shallow patch at the far west side.
The east side of this forested land holds water which also flows in and out and this is because the water body is linked to the sea at the far end.