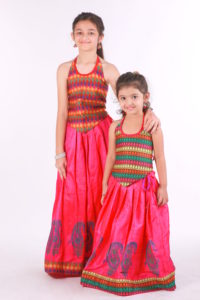 SHOPPING
GARMENTS FOR LITTLE GIRLS
Ethnic wear for girls by Baalika, from 6 months to 14 years. Includes paavadai sets, kurtis, skirts, salwar kameez, anarkali kurtas and frocks along with salwar kameez materials and block-printed cotton and silk sarees for women.
Till Mar 24, 10 a.m. At C.P., Art Centre, Eldams Road, Alwarpet, Ph: 9449812995 / 9845129095.
OLD SARIS REVIVED
 Vimor presents exhibition and sale of silk and cotton hand-loom saris- old sarees and some designs revived and developed from Tamil Nadu, Andhra Pradesh, Karnataka and Banaras, along with contemporary saris and unisex sarongs/ lungies.
On Mar 23, 11 a.m. At the C.P. Art Centre, Eldams Road, Alwarpet.
RETAIL POP UP
'Cool Comforts' by Co-optex, a blend of classical and contemporary saris woven by weavers of Dindigul, Salem, Paramakudi, Manamedu and Kancheepuram.
Till Mar 24. at Ashvita Fine Living Store, Bawa Road, Alwarpet.
WORKSHOPS
ART
Soft pastels for beginners a workshop by Aarthi Goyal. learn to create a galaxy inspired soft pastel artwork. Organised by Hindustan Trading Company.
On March 23, 10:30 a.m. At Madras Art Store, Alwarpet. Contact:  9790995771. Paid event. Materials provided.
FLIPBOOK MAKING
Flipbook making workshop by Samidha Gunjal. Hosted by Untitled Workshops and CurioPlay,
On Mar 23, 12:30 p.m. At 3, Ananda Road, Alwarpet, 9790761906.
CALLIGRAPHY
'Ink my paper', a calligraphy workshop for beginners.
Fee: 2900, inclusive of calligraphy kit and high tea.
On Mar 24, 2 p.m. At Ashvita Bistro, Alwarpet. Register: 42109990.
STORY TELLING
Workshop on 'Storytelling for adults' (in-person).
On Mar 24, 2.30 p.m. At World Storytelling Institute, 7, Kasturi Estate 3rd Street (3rd Floor), Cathedral Road, Alwarpet.
GARDENING WORKSHOP
'Organic terrace gardening: pests and diseases', hosted by Goli Soda. Take away one biocontrol agent of trichoderma or pseudomonas.
On Mar 25, 5.30 p.m. At Ashvita Bistro, 11, Bawa Road, Alwarpet. Ph: 42109990. Paid event.
MUSIC. COMEDY.
MUSIC CONCERT
Music concert by The Old Madras Band presenting Swastham, organized by Madhuradhwani. Featuring- Thrumaigyanam Ayyappan (nadaswaram), Sambhasivam (veena), Anayampatti Venkatasubramanian (violin), T. Sasidhar (flute), H. Prasannah (ghatam), Sunilkumar (Kanjira), T R Sundaresan (on mridangam & konnakol).
On Mar 24, 6.15 p.m. At Arkay Centre, Luz. Open to all.
STAND UP COMEDY
Evam Standup Tamasha presents I tried by Manoj. Prabhakar
On Mar 24, 7 p.m. At Rasika Ranjani Sabha, 30/1, Sundareswarar Street, Ph: 24641767. Paid event.
MISCELLANEOUS
EPILEPSY AWARENESS
Epilepsy awareness session by neurologist Dr. Prithika Chari, organized by Kaveri Hospital and EPICENTRE.
On Mar 24, 10 a.m. At 81, TTK Road, Alwarpet. Open to all. Register: 8838774532.
BOOK SALE
Sale of publications on Gandhian thoughts and peace education.
On Mar 25 to 27, 9.30 a.m. At Srinivasa Gandhi Nilayam, 332, Ambujammal Street, Alwarpet.