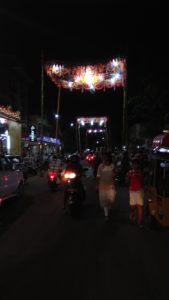 A festive mood has set in and around Sri Kapali Temple. This evening, the mada streets looked like a village mela with the beautifully decorated pandals and pavement shops.
Many nomadic hawkers have put their shops today ahead of Adikara Nandi procession tomorrow (March 13) at 6 a.m.
The children were seen enjoying the merry-go-rounds and balloon shooting games at East Mada Street.
Adjacent to that the hawkers were selling beaded chains, handbags, a variety of earrings and jewellary, chat-items, raw mangoes (served with chilli powder and salt), kamarkat and other traditional sweets.
In the evening, at around 5.30 p.m., officers of Fire and Rescue services were chopping off the middle portion of the ther shutter to enable its smooth ride on March 17.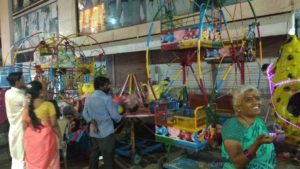 Inside the temple, the preparations were on for the procession at 9 p.m. 'Artist Veda' from Vandalur was painting the eyes of the yazhi present at the sides of Chandra vattam vahanam.
As the donors completed the decoration of Adikara Nandi vahanam devotees were eagerly waiting for its procession to take place tomorrow.
A group of devotees were planning to come as early as 4 a.m. "Else, we won't be able to get a proper darshan of Sri Kapaleeshwarar in Adikara Nandi vahanam once the crowd starts coming," said a devotee from that group.
At 9 p.m., Sri Somaskandar, goddess Karpagambal and Sri Murugar were taken out in Chandra vattam, killi and annam vahanams respectively.