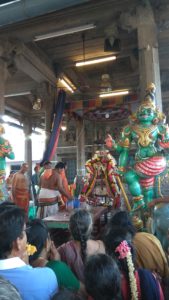 Hundreds of devotees are gathering at Sri Kapali Temple as the Mahashivarathri poojas have started here.
Devotees from various parts of the country are standing in long queues to get a darshan of the deities on this auspicious day.
A large number of devotees are also arriving near the temple office as the temple's staff are distributing the invitation for the temple's Panguni Festival.
The whole Mada Street zone is fully packed with devotees as the religious festivities have started at all the nearby Shiva temples as well.
The traffic policemen are diverting the motorists away from the temple zone.
They have also put barricades around the temple and at Kapaleeswarar Sannidhi Street.