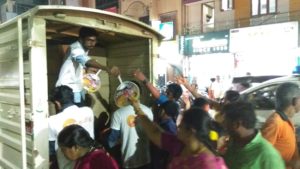 To reduce the strain of the devotees who will be staying awake inside the temple throughout the night of Mahashivarathri, the volunteers of Zee Tamil (TV Channel) are distributing free handheld fans (kai visiri) at a tempo in South Mada Street, Mylapore.
They started distributing from 7 p.m. on March 4.
"We have taken this initiative for the first time," says a volunteer.
Many devotees and street vendors, who have planned to stay awake at night are gathering here to get a few fans.
But, since the distribution is taking place near Gandhi Statue in South Mada Street, it is creating a lot of chaos and traffic congestion.