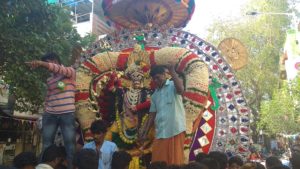 As a part of 93rd Mayanna Kollai Thiruvizha at Sri Angala Amman Kovil in Narayana Swamy Garden First Street, goddess Angala Parameshwari was taken out in a grand procession in Mylapore.
On March 6 (Masi Amavasai), the procession started in Narayana Swamy Street. It vended its way down Kamarajar Salai, R.A Puram at 4 p.m.
"From here, the procession will go through Mandaveli market, R. K. Mutt Road and the Mayanna Kollai will take place at a ground (mayanam) in R. A. Puram," says R. Sivaguru, a volunteer.
"Manjal Neeratu Vizha will happen tomorrow for goddess Angala Parameshwari,"
he said.
The finale took place at the Chennai Corporation ground off the Jesus Calls campus in R. A. Puram. Hawkers sold balloons, ice creams and snacks and the ground was lit.