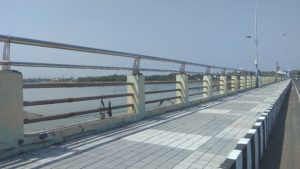 Recently, the Chennai Corporation has raised the height of the handlebar by 40cm on one side of Thiru-Vi-Ka bridge that runs across the Adyar river.
"This has been done to provide safety to the public," says M. Murugan, Assistant Executive Engineer (AEE) of Bridges Department of Chennai Corporation (ward 173).
What he didn't acknowledge was the rank bad planning of this civic work where the footpaths on either side were relaid, their heights increased by over one foot and the original railings were left at a height where a person leaning over could fall into the river by accident. When the danger was pointed out by the public, a new set of railings was added recently.
"Chennai Rivers Restoration Trust (CRRT) has funded the relaying of footpath. And we have implemented it. We have also installed cable ducts underground," the AEE said.