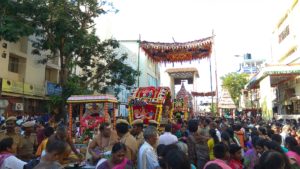 Arubathumoovar – the most important procession of the Panguni festival at Sri Kapali Temple took place this evening.
The procession started at around 3.40 p.m. with goddess Kolavizhi Amman in the lead.
Sri Vinayakar and the naalvar – Thirugnanasambandar, Thirunavukarasar, Sundarar and Maanikavasagar followed her in the procession.
After them, were the images of Sivanesa Chettiar and his daughter Agampompavai. Following them were the 63 nayanmars.
The pancha murthis – Sri Somaskandar, Sri Karpagambal and Sri Singaravelar followed the nayanmars.
Deities of nearby temples – Mundagakanni Amman, Angalaparameshwari Amman, Thiruvalluvar, Vasuki  and Sri Vairavel Murugan from Cintadripet, followed the procession after the Pancha murthis.
The legend behind this procession is that "Lord Kapaleeswarar and other gods are coming out of their temples so that the differently abled and other people who are not able to visit the temple throughout the year can get a darshan. Bhaktas will also get saba vimochanam if they visit the temple or the mada streets during this time," says E.Venkatasubramaniam, the chief priest of Sri Kapali Temple.
Women and young girls drew beautiful pulli kolams and rangolis with flowers at the Kapaleeswarar Sannidhi Street to welcome the deities.
Devotees from Tambaram, Oragadam, Purasaiwalkam, Avadi and even from the districts of Cuddalore and Chinglepet gathered at the temple early in the morning to get a darshan of the deities inside the temple and reserve a place from where they could get the best view of the deities in procession.
Kamakshi and her group of friends from Oragadam said, "Whatever we wish during the Arubathimoovar procession gets fulfilled by the next year's Panguni festival. Hence, we come every year to thank the lord and get his blessings."
A number of donors offered food and cool drinks at the mada streets and at the inner streets near Chitrakulam.
Many donors also distributed pongal and buttermilk at Kamarajar Salai, Luz Corner, Madaveli and R K Mutt Road.
Though the police regulated food stalls of donors on mada streets, the stalls off this zone presented chaos and there were heaps of food waste were lying at many corners.
The police from the crime branch streamlined the crowd in civil dress. They offered safety pins to women devotees and asked them to secure their gold chains.
A couple of policemen stood at the watchtower with a binocular to monitor the crowd.
At around 6 p.m., the mada streets were packed to the sides. Since the evening was pleasant, more and more people chose this time to head to the procession.