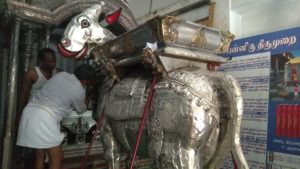 The preparations for silver Rishabha vahanam were on from this morning. In the afternoon of March 15, the members of Thiruvasaga Thirusabhai polished the vahanam.
Around 20 workers of Raji flower shop in Ponnambala Vathiyar Street tied the garlands and flowers for the vahanam decoration.
At 6.30 p.m., they were preparing the prabais (arch) for the pancha murthi. Suitably cut bamboo sticks formed the first layer of the arch. Over them, banana stems of appropriate sizes were tied. Later, the flower sets were inserted.
The procession will take place at 12.45 a.m., where Sri Somaskandar, goddess Karpagambal and Sri Murugar will be taken in silver rishabha vahanam, gold rishabha vahanam and gold mayil vahanam respectively.