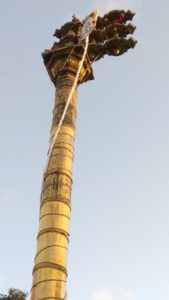 On the Day 2 (March 11) of the Panguni festival the chief priests of Sri Kapali Temple hoisted the flag (kodiyetram) at the kodi maram in front of Sri Kapaleeswarar Sannadhi.
The deities (panchamurthi) of  Sri Somaskandar, Goddess Karpagambal, Sri Vinayagar and Sri Chandikeshwarar were placed on the stage of navaratri mandapam facing the kodi maram.
Hundreds of devotees gathered for the event.
R. Revathy and G. Mangai said they had come "rushing all the way from Vadapalani to see the kodiyetram. We didn't want to miss the auspicious moment."
Today, many devotees who were here from nearby districts have come and stayed in Mylapore to witness the 10-day Panguni Festival.
Later, this morning the five deities were taken in a procession around the mada streets.