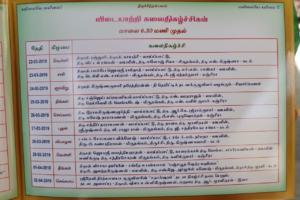 Ranjani-Gayatri, Bombay Jayashri and Sanjay Subramanyam are among the artistes who will perform this year at the Panguni festival music and dance fest that follows a day after the religious events end this month.
This morning, the rituals at Sri Kolavizhiamman Temple were held – a ritual to pray to the grama deivathai for the goodness for the festival, a ritual that has been followed for ages.
The music and dance concerts are looked forward to at the fest and the curators generally have some top artistes in the line-up.
From Mar 22 to April 2, with a two-day break. Dancers of gurus Krishnakumari Narendran and Sheela Unnikrishnan will perform.
The concerts are held at the Navaratri Mantap in the evenings.