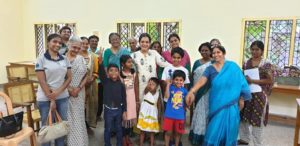 This weekend, actor and story-teller Janaki Sabesh did what she loves doing but at a new venue; Janaki told animated stories intended for children and appealing to adults at the district library located in R. A. Puram, diagonally opposite Sangeetha restaurant on 3rd Cross Street.
Though the gathering was small it was an evening well spent for people who attended this event.
The monthly meets at the library which wears a fresh coat of paint are a joint project of RAPRA, a local residents' association and LLA District Library of R A Puram. And Nirmala Raghavan co-ordinates this effort.
In the recent past, students of local area schools were invited here to discuss the books they love. Later, Nirmala hopes to invite local area-based writers to talk to residents here.
The library here has 47000 books and a well-ventilated reading hall
Says Nirmala, "Our motto is to make reading fun for all ages and also make the neighbourhood's school children realise that reading for pleasure improves scores."