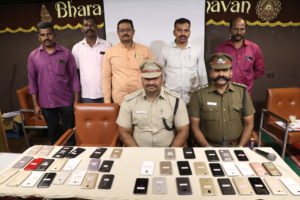 On Saturday, March 23, more than 150 lost or stolen phones were returned to their rightful owners at the police station at Kutchery Road, Mylapore by the assistant commissioner of police, Ramesh.
The inspector at the station Senthil Murugan says, "This was an initiative by the assistant commissioner.  Many a time when people buy the phones from Burma Bazaar and other places, they don't realise that they have bought a phone that belonged to another person. When they start using it, we start tracking it with the help of the IMEI number, a unique 15 digit number assigned to each phone, and then inform them that the device was lost or stolen. We then give it back to the person who registered the complaint".
He continues, "We encourage people to register a complaint when they loose their phones. Our cyber team will definitely help them recover it".