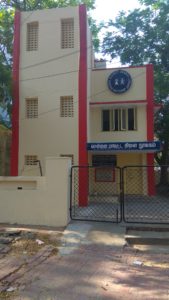 The public library on the Fourth Main Road, R.A.Puram looks bright after a recent facelift. The Local library authority has got the painting work done after six years.
"We fixed the leaky roofs. RAPRA (Raja Annamalai Puram Residents' Association) helped us in laying the cables underground," says K. Menaka, the staff at the library.
The association has also donated some chairs, lights and fans for the books section in the ground floor.
"After the renovation, many are coming to take books and are feeling comfortable to sit here for reading," she says.
Apart from this, RAPRA along with the Local Library authority is conducting innovative sessions to encourage the reading habit among children under their 'Get caught reading' series, which got inaugurated in January.
"Every month we bring a celebrity to make the reading fun for children. This month on March 9, Janaki Sabesh, actress and storyteller will do a storytelling session. The session will be held from 4 p.m. to 5 p.m," says Nirmala Raghavan, the Library Project Coordinator, RAPRA.
The session is open to children in the age group of 14 to 18.