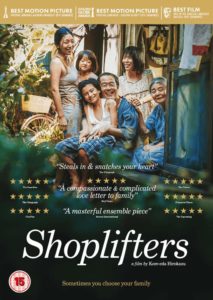 FILM. MUSIC. COMEDY
JAPANESE MOVIE
Screening of Japanese movie, Shoplifters (2018). Director: Hirokazu Koreeda.
On April 20 1:30 p.m. At ICAT Design & Media College, 153, San Thome High Road, Mylapore,
FOR MSV FANS
Musical interaction with Carnatic vidwan and M. S. Viswanathan' s assistant G. S. Mani. Organised by Mellisai Mannar Fans Association (MMFA). On April 21, 6 p.m. At Russian Centre, 74, Kasturi Ranga Road, Alwarpet. Ph: 24990050. Open to all.
COMEDY
The Weekend Show featuring Saikiran and Shankar Chugani. Hosted by CounterCulture Comedy Club. On April 20, 8 p.m. At 16, 1st Cross Street, Co-operative Colony, Sri Ram Nagar, Alwarpet. Paid event.
DANCE
Bharatanatyam recital by Lakshanya Vasan of Bharata Kalanjali.
On April 26, 6:30 p.m. At Madras Music Academy.
SHOPPING
HOME DÉCOR & DRESS MATERIALS
Craft exhibition featuring handloom dress material from across the country, blue pottery, home linen display from Rajasthan with traditional Rajasthani design, Sharanpur wooden furniture and wooden handicrafts.
Till April 24. At Sri Sankara Hall, T.T.K Road, Alwarpet. Ph: 9962619531 / 7904827466.
WORKSHOP
FOR CHILDREN
Awareness workshop on health, environment and farming for children: the Indian way.  Age 10 to 13 years.  On April 24, 10 a.m. At Parampara, 46, Kasturi Ranga Road, Alwarpet. Ph: 24991516.  URL:www.parampara.org
PASTEL ART
Soft pastels for beginners a workshop by Aarthi Goyal. Organised by Hindustan Trading Company. Materials provided. Prior registration required. On April 20, 2:30 p.m. At Madras Art Store, Alwarpet. Contact:  9790995771.
MISCELLANEOUS
ART
InKo Centre presents Infinitude, an exhibition by four  award winning artists and research scholars at Lalit Kala Akademi: Ashik Alikhan (Kerala), Divya Puvanendra Pandian (Tamil Nadu), Kandula Pradeep Kumar (Andhra Pradesh), Sruthi S Kumar (Kerala),
From April 24 to May 10, 10 a.m. At InKo Centre, Ph: 9840013017 / 24361224.
MAGIC FOR KIDS
Magic show by magician Suraj. On April 20, 5 p.m. At Wandering Artist, 51, 6th Main Road, R A Puram. Ph: 9840111425/ 9500042435. Open to all.
EATING OUT
EASTER SPECIAL
Easter Brunch at Bay 146. On April 21, 12 noon. At Savera Hotel, Mylapore. Ph: 9710976876.
FOOD POP UP
Eat Pay Love presents 'Ministry of Home Chefs – Edition 2',  a trunk show  by home chefs, home bakers and small food establishments. Featuring food made using natural ingredients with no artificial flavoring or preservatives. Find sweets, cakes, jams, chutneys, pickles & podis, healthy disease friendly bakes, millet biryani, hand crafted wines, fusion chaats and more.
On April 26 & Sat 27, 11 a.m. At The English Tea Room, Kasturi Ranga Road, Alwarpet. Ph: 9677249260.