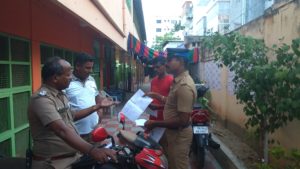 On April 17 evening, the arrangements were almost complete for the Lok Sabha polls 2019. This morning, the polling orders were sent by the Election officers.
The mobile vans distributed the necessary materials to all the booths from Rani Meyyammai Girls Higher Secondary School, R.K.Mutt Road, which is the center for Mylapore assembly constituency.
"Four EVMs (Electronic Voting Machine ) corresponding to the 41 candidates of Chennai South constituency and one VVPAT (Voter Verifiable Paper Audit Trail) machine have been sent to each of the 262 booths in the Mylapore assembly constituency, " said Assistant Returning Officer, Adyar zone.
Over 1300 government staff, from various schools, will be working for this election in Mylapore.
Each booth will have one presiding officer and three or four polling officers."And they have been sent to their respective booths with all the necessary materials. Complete police protection is also given to all the booths," she said.
52 Reserve officers are present at the Mylapore Taluk office, Greenways Road. "In case of any medical emergencies or if any polling officers are absent, the reserve officers will be sent immediately as substitutes," she said.