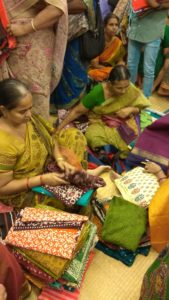 On April 1 evening, the women shoppers around the city flooded Rangachari Cloth Store at Luz Church Road, Mylapore.
They were here to avail the 10 % discount that the shop provides annually on April.
This discount is provided on all saree varieties.
Groups of women sat on the mat to discuss the designs and material. Most of them were keen on buying the cotton sarees.
"This year, the cotton sarees and the sarees in the jute variety are excellent, " says M. Latha from Velachery.
S. Gajalakshmi and her group of friends from Adambakkam were excitedly choosing sarees for each other.
"We usually come during the first day of the sale, so that we don't miss the new collections. We are very much used to the cotton sarees here," says Gajalakshmi.
"Its also a kind of get together for us," she
adds.
The sale will be on till April 13 at Rangachari Cloth Store, Luz Church Road, Mylapore.