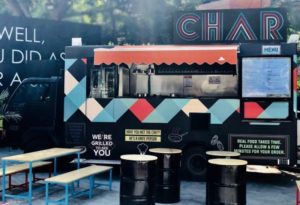 Char, a new food truck operating in RA Puram, is the newest concept to hit the neighbourhood. Started by classmates VGP Surojit and Abbas Bharmal, Char was inspired by the foreign concept of a portable food business.
"Our menu has both vegetarian and non-vegetarian food, but our meat dishes steal the show", says Surojit. "Our meat is juicy and succulent because it's fresh and not frozen".
The accompaniments of sauces and parathas make the meal complete for the grill food lovers. Apart from stand alone barbecue dishes, one can enjoy veg and non-veg combos with dessert options starting from Rs. 150.
The truck is done up in colourful geometric patterns and they have a casual seating space with benches and barrels for 24 people.
"There is enough open space for standing and dining and ample parking space for cars", adds Surojit. They also cater to outdoor events and functions. The partners are now looking to franchise Char on demand.
Char has specials on every weekend. Delivery is available till 2.30 a.m. through Zomato and Swiggy. Must try: mutton chops, paneer tikka, wheat paratha, chicken malai tikka, kulfi, goli soda.
Price for two: ₹ 700
Timings: 12 noon – 3 p.m., 6 p.m. – 11 p.m.
Address: 90, Chamiers Road, R.A. Puram. Ph: 9940555626, 9840174786.