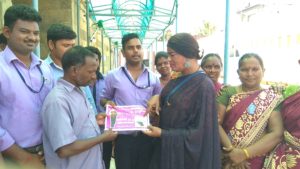 M.Radha (a transgender woman) who is contesting the Lok Sabha poll in Chennai South started her campaign in Mylapore on April 2 morning.
She is an independent candidate and a resident of Mandaveli.
She did a door to door campaign along with her friends. During the campaign, she spoke to the residents of Mylapore and of Mandaveli and asked them about their issues.
"Water is the main issue that everyone is facing now. I will definitely try to solve this problem if elected," said Radha.
The team also visited Sri Kapali Temple and distributed pamphlets to the temple staff. The pamphlets had her symbol – the computer mouse.
While campaigning, she said to people, "You have given chance for men and women. We (transgender community) have both the qualities, and I will try to perform my level best if you give me a chance."