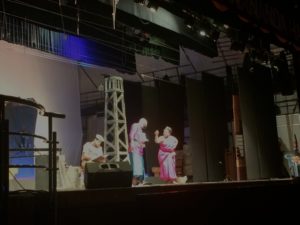 Theatre rasikas enjoyed themselves thoroughly and let the artistes on stage know by repeatedly applauding performances and stage sets at Theatre Marina's new play staged on Monday evening at Narada Gana Sabha.
The Thamizh play 'Kurinchi' was staged as part of the Kodai Nataka Vizha hosted by Kartik Fine Arts.
'Kurinchi' was far from the slapstick comedy or social that Thamizh theatre still wallows in, to entertain people.
It bases the story on a World War bombing incident in Madras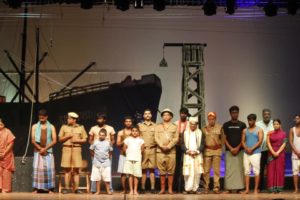 Harbour, and locates the action in North Madras and swings between the colonial past and a time when DMK leader and then chief minister of Tamil Nadu Annadurai passes away.
Theatre Marina conceptualised a visual of SS Kurinchi, a ship and a scene at the harbour, bringing to the stage a visual experience that won it some wows from the middle rows in an auditorium that was almost packed this Monday evening.
Its ensemble cast of over 20 artistes including two young teenagers did a creditable job with a few winning the hearts of the audience. Some of them are bound to be in the reckoning for awards that the sabha gives out on June 1 after the festival is done and dusted.
As Theatre Marina takes this play to other stages, it will do well to have it staged in North Madras, the setting for the story.
< 2nd photo featured here is from Theatre Marina's social media page