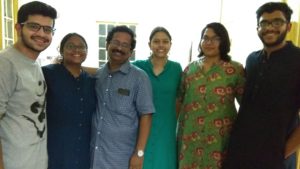 On April 29 evening, a unique Carnatic music concert took place at Srinivasa Shastri hall off Luz Church Road, Mylapore. The students of V. Murali, an accounts tuition teacher in Mylapore, took part in the concert.
Murali had curated this event to encourage his students who were passionate in the field of arts.
All the participants in the concert were budding artists."Many students who have got a lot of interest in music, dance and other forms of arts rarely get a platform with a big audience," says Murali.
Murali, a chartered accountant professional, has been taking accounts tuitions for class 11 and 12 students at his residence in Balaiah Avenue, D'Silva Road, Luz, for 15 years.
"And during my classes, I also talk to my students regarding their interests/talents. This way, I found out that there were many talented Carnatic music and dance artists in my current batch. Hence, I organised this music concert. We are also planning to conduct a dance program next month," he says.
The banner of the concert said – 'Paaduvom, koothaduvom, Sandhoshamaga padipom'. "Studies cannot be forced on to students. We have to let them enjoy and encourage their interests. And when we do this, they will automatically improve in studies," says Murali.
The entire show which took place from 4.30 p.m to 8.30 p.m. was organised by the current batch students of Murali. "I just funded for the event. My students, around 75 of them did everything from planning to allotment of slots, welcoming of the guests to poster design," he says.
These students from the local schools of Mylapore sang Carnatic music and played the violin, mridangam, harmonium, keyboard and there was a Harikatha performance too. The event was inaugurated by Anush Shankar, treasurer of R.R.Sabha, Mylapore.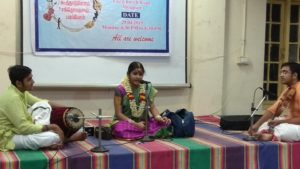 'Murali uncle', as the students affectionately call him, also ensured to involve all his students in some way or the other. The students divided the tasks among themselves depending on their talents. E. Yazhini, who is passionate about drawing, did the poster design for the concert. Likewise, girls who had oratory skills hosted the event.
The hall was packed with more than 200 people. Current students, parents and old students of Murali were present at the hall besides others. Many old students had travelled from far-off places in Chennai, especially to see their favourite 'Murali uncle' and encourage their juniors.
"It was also like a reunion for us," said A. Ragula, a student of Murali.
"We love the tuition classes that Murali uncle takes. It's our second home. He gives us food, takes us to educational tours and makes learning fun. Recently, we also went to a nearby village where he taught us to plough," says S.Haripriya, another student.
Srividya Srikanth, a parent from Mylapore says, "We feel very happy. It is the first of a kind music show that Murali Sir has organised in a big way. It has really encouraged my daughter and given her confidence."
"It is also helping other students to come out of their shell and show their talents," says Shoba Nagaraj, a parent from Mandaveli.