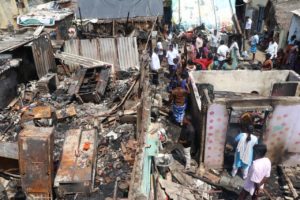 At least twelves huts / single-room houses at the seaside end of Dooming kuppam in San Thome were burnt down in a fire in the early hours of Saturday.
The fire was caused by a short circuit in the power lines that serve the houses in this particular area.
There was no loss of life but almost all houses lost their roofs and clothes and utility goods were burnt in the fire. Mylapore MLA R Nataraj visited the area this morning, his aides said.
Local residents say that many huts draw power illegally from one household that has a legal power connection and that this is common across the kuppam and these illegal, overloaded lines are cause of mishaps here.
Report, photo; Madhan Kumar / MT