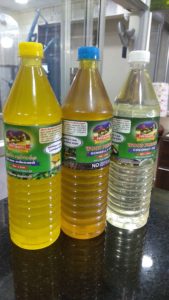 VMV Gramiya wood pressed oil mill – a new wood pressed oil (mara chekku ennai) shop has recently opened at South Mada Street (Next to Karpagam Hotel) in Mylapore.
The shop has its own vaagai mara chekku. In order to provide transparency to customers, the shop is live telecasting its oil preparation.
V.M. Vasanth Kumar, the owner of the shop says, "Our mara chekku is made up of vaagai wood, that is known for its medicinal value. So, when oil is prepared in this wood, its medicinal value also gets added. "
Now, the shop is preparing groundnut, coconut and sesame oil using the mara chekku present here."The oil preparation takes about 10 or 20 hours. After that, we collect the oil in barrels and leave it untouched for three days for the sediments to settle. Later, we filter and pack the oil," says E.Satyaraj, the staff at the shop.
"There is no heat generation or mechanical process involved," he adds.
"And since we are using mara chekku, oil is prepared at a temperature lower than 40-degree Celsius. So all nutrients and good fats will be retained in it. Also in sesame oil, palm jaggery is added to reduce the bitterness of sesame. And our coconut oil is sulfur-free," says Vasanth.
The shop also sells products like karupatti, rock salt, white pepper, ragi laddo, murukku and more. "The laddoos and snacks are prepared near our farm in Coimbatore," he says.
Vasanth says he sources the best ingredients from farmers across Tamil Nadu."I and my team visit the places like Villupuram and Tiruchi to collect the ingredients for oil preparation."
On May 17, Nithya, a regular user of chekku oil said, "I have read about the health benefits of cold pressed oil prepared using vaagai wood. So I came to buy sesame and groundnut oil as they have a vaagai mara chekku here."
A litre of groundnut, sesame and coconut oil costs Rs. 270, Rs. 390 and Rs. 330 respectively. The team has been running a branch in Triplicane for four years.
The shop is located at 43, South Mada Street, Next to Hotel Karpagam, Mylapore. Ph: 7299016425